Description
50 bp DNA ladder, Load Ready™, 100 lanes (500 µl)
The miniPCR™ 50 bp DNA Ladder is a ready-to-load molecular weight marker suitable for determining the size of double-stranded DNA from 50 to 500 base pairs on gel electrophoresis. The ladder consists of 8 linear double-stranded fragments. The 250 bp fragment is present at increased abundance to allow easy identification as a higher intensity band.
All fragments are precisely quantified and mixed during production. For 5 µl loading, all fragments except 250 bp are 10 ng. The 250 bp fragment is 25 ng.
This ladder is pre-mixed with loading dye and is ready to use, and it is suitable for use with non-toxic nucleic acid dyes premixed in the gel.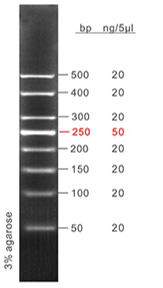 Recommended electrophoresis conditions: 5 µl/lane, 6 cm 3% Agarose Gel, 0.5×TBE, 1h.
Routine storage: -20°C for up to 12 months, room temperature for 3 months.
Download SDS.