Visualize DNA safely and efficiently
Blue light DNA transilluminator
Damage-free DNA staining and visualization
SAFE DNA VISUALIZATION
No protective goggles or equipment required
Safe  blue LEDs with significantly longer lifespan than UV lamps
No UV damage to DNA for downstream applications
CONSISTENT RESULTS
Dual high-intensity blue LED illuminator panel (121 LEDs)
Emission spectrum centered around 470nm
GreenView Plus™ and compatible dye DNA staining
SyBr family compatible
Perfect benchtop companion
Universal fit and large viewing area
UNIVERSAL FIT
Large gel viewing area: 110 mm x 80 mm
Lock-and-cut hinge for easy band cutting and gel excision
Fits gels from all major electrophoresis systems
READY TO USE OUT OF THE BOX
12 V power adapter included
One-button operation and easy storage
Scratch-resistant acrylic with integrated lid (never lose it!)
View, document, and cut DNA bands with ease
USER FRIENDLY
Hinged orange filter for direct visualization or gel excision
Even gel illumination and documentation – no UV light bulb artifacts!
Document gels with your own phone, tablet, or professional camera
Scratch-resistant surface for band cutting
Documentation and gel cutting even in bright ambient light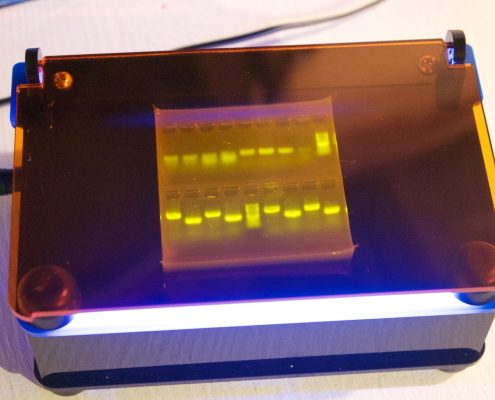 PATENTED TECHNOLOGY
Same patented technology used by other major brands
COMPATIBLE WITH MAJOR DYES
GreenView and GreenView Plus
GelGreen
EvaGreen
SYBR Safe
GRSafe, Gel Star
SYBR Gold, SYBR Green I and II
SYPRO Ruby, Orange
And others!
Features
Blue-light transilluminator with built-in hinged lid
Emmision spectrum optimized for safe stains
Blue light, compatible with SyBr family DNA stains
High intensity consistend LED panel
Non-flickering, powerful LEDs for sensitive DNA staining
Viewing area: 110 x 80 mm
Illumination: 121 high-intensity LEDs
Emission spectrum: Peak at 470 nm
Dye compatibility: GreenView Plus, GelGreen, SyBr SAFE
Power supply: AC 100-240V, 12V adapter included
Dimensions: 7″ x 4″ x 3″ height (16.5 x 10.7 x 6.8 cm.)
Weight: 14 oz., 400 gr.
Licensed under US patents 6198107, 6512236, 6914250, and EP 0965034.