The ultimate miniPCR™ thermal cycler
16-well PCR capacity with a tiny footprint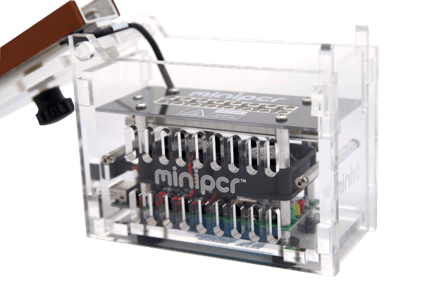 A connected thermal cycler
Dual USB and Bluetooth capabilities
FULLY CONNECTED: USB and Bluetooth
Both hard-wired USB and wireless connectivity.
COMPATIBLE WITH MAJOR OS
Works with Windows, Mac, iPads, iPhones, Chromebook, and Android.
FLEX PROGRAMMING
Flex mode allows for multi-step unlimited programs and touchdown PCR.
BATCH PROGRAMMING
Full control of multiple miniPCR™ machines from a single device.
Better PCR results, 16 times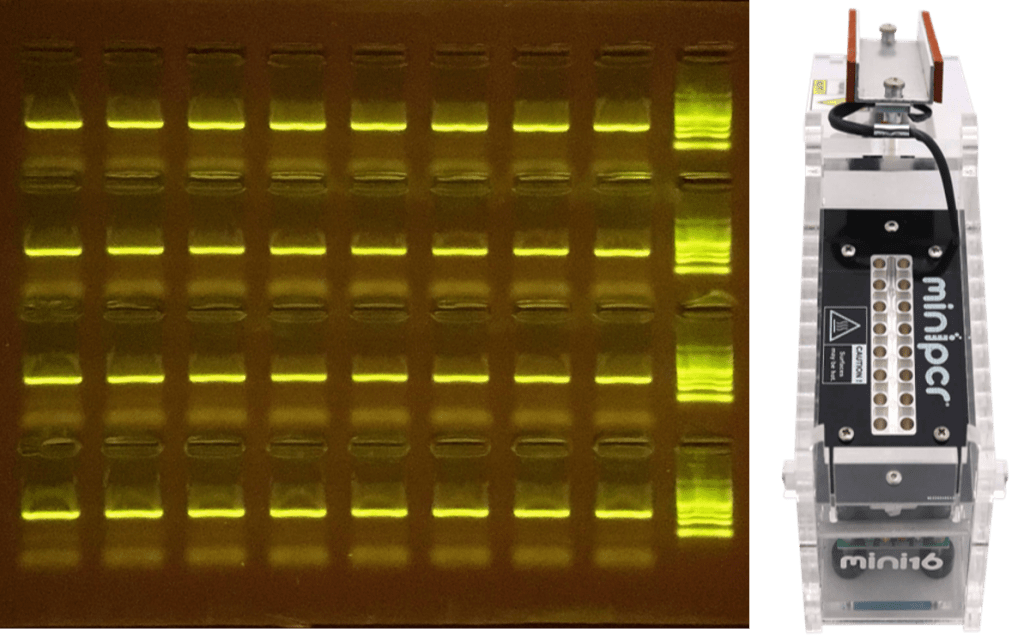 ROBUST AND RELIABLE
Better amplification, every time.
Image: Human gDNA amplification for TAS2R38 locus.
SMALL BUT SPACIOUS
Holds two 8-tube strips or 16 individual PCR tubes.
COMPATIBLE WITH STANDARD PCR
Same reagents and consumables as other PCR assays.
PEER-REVIEWED QUALITY
Professional results.
Built to last. In space, your classroom, or the jungle.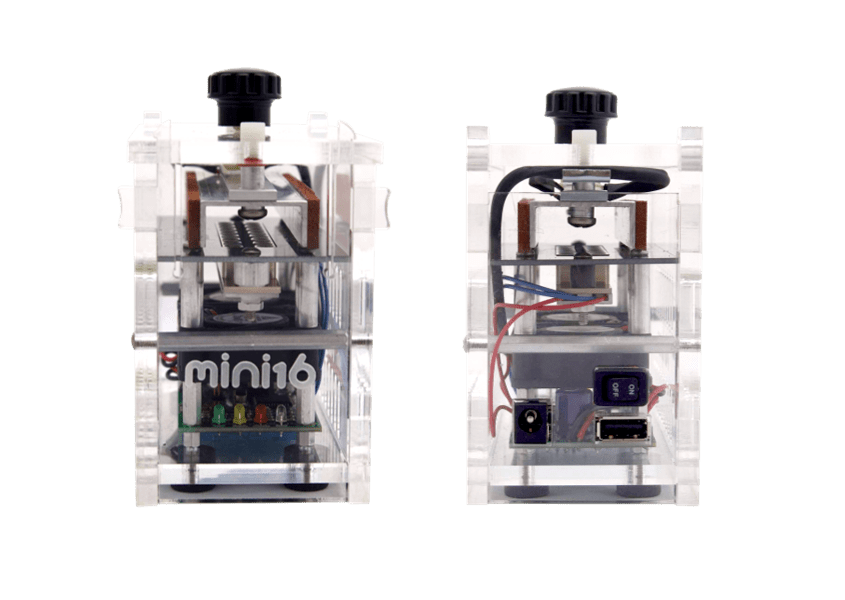 NO BREAKABLE PELTIER ELEMENTS
Smart thermal cycling components rated to 490,000 hours' use.
TRUSTED TECHNOLOGY 
miniPCR™ is the trusted name in miniaturized PCR machines that revolutionized access to molecular biology.
RELIABLE IN LABS AND CLASSROOMS
Easy, affordable, fast, and engaging.
REAL-WORLD RELEVANT
Read real-world case studies by scientists and educators using miniPCR™.
Interactive and transparent. Not a black box.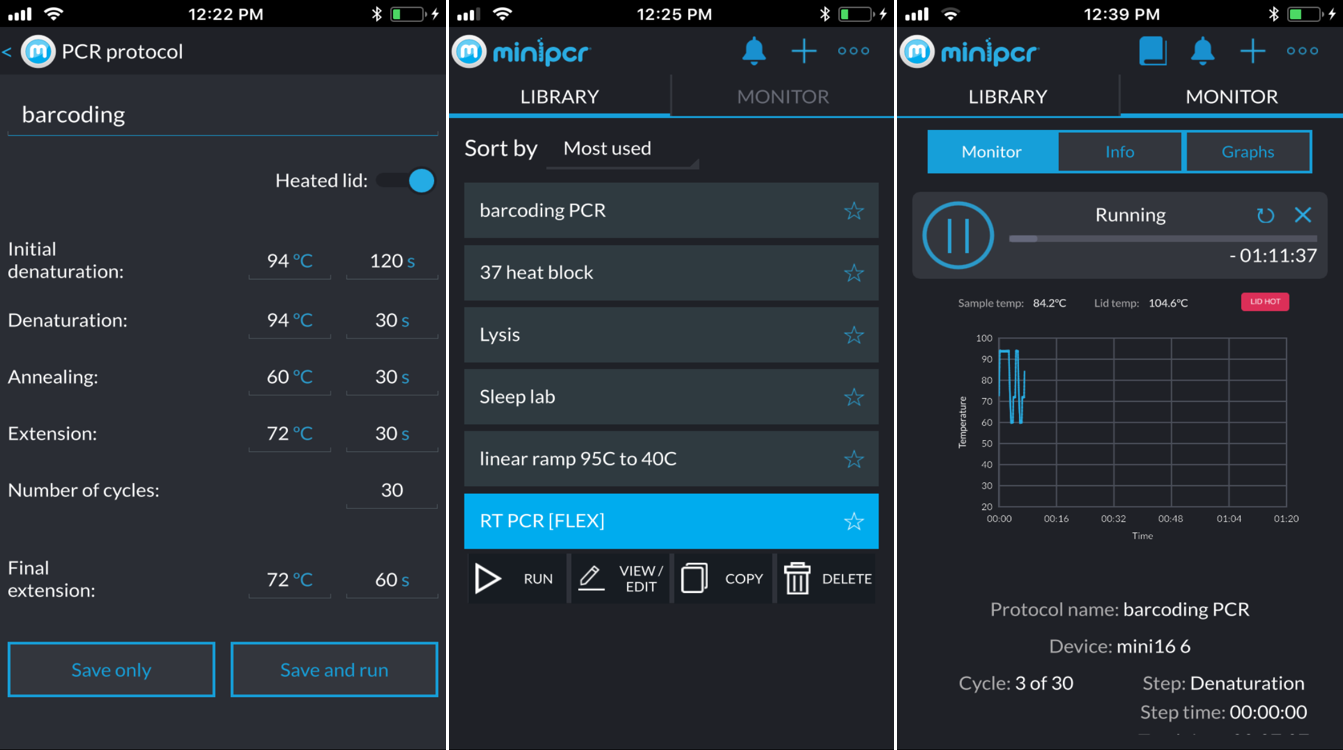 INTERACTIVE APP
Visualize and understand DNA amplification.
Easily create, program, share and monitor experiments.
INTERACTIVE DESIGN 
Transparent, luminous, and engaging.
INTERACTIVE FEATURES 
1-to-1 interactivity with your own device.
UNLIMITED PROGRAMMING
PCR cycling, Linear Ramp, Heat Block
FLEX programming mode with Touchdown PCR
BATCH programming of many mini16 from one device
FULL CONNECTIVITY: BRING YOUR OWN DEVICE
Windows and Mac computers
Android phones/tablets
iPhones/iPads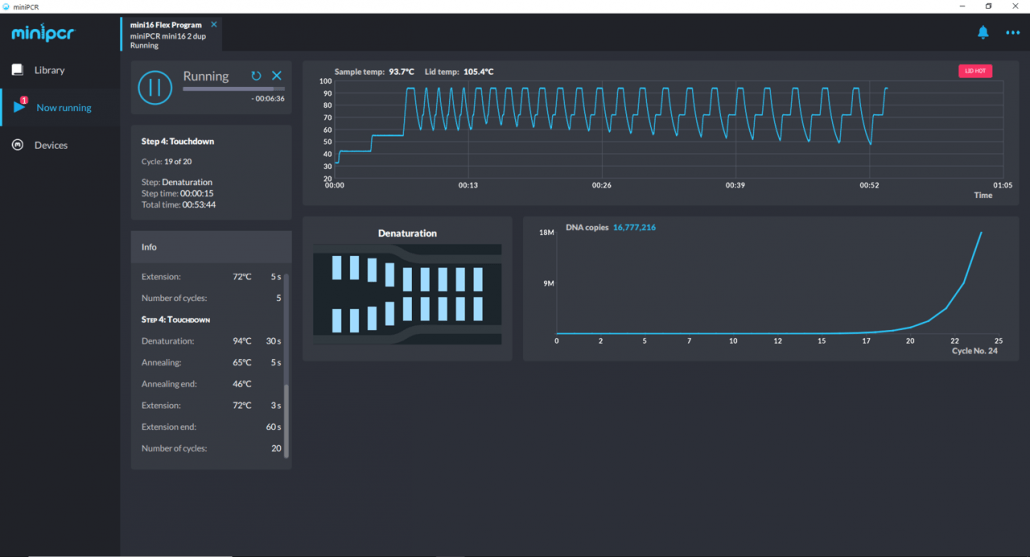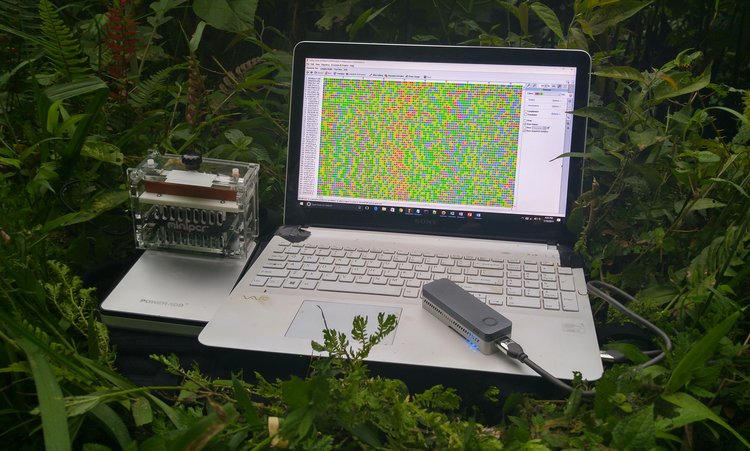 GO PLACES 
Take your science with you, wherever you may roam.
POWER UP 
3+ hours PCR run time with optional miniPCR™ Power Pack.
BREAK BOUNDARIES
Compatible with downstream workflows including Sanger and nanopore sequencing.
Photo of miniPCR in the Ecuador jungle courtesy of Aaron Pomerantz.
Sample format: 16 x 0.2ml PCR tubes (8-strip compatible)
Max Heating Ramp Rate: 3°C / sec
Heated Lid: Independent lid heater up to 120°C, PID control
Max Cooling Ramp Rate: 2°C / sec
Program Sharing and Backup: Unlimited libraries, .plf file
Temperature control: Resistive Heating; assisted cooling
Device Connectivity: Dual USB and Bluetooth Low-Energy (BLE)
Programming Modes: PCR, Linear Ramp, Heat Block, and FLEX
Control System: Embedded thermistors, adaptive PID algorithm
Temperature Range: Ambient – 99°C
Dimensions: 2″ x 5″ x 4″ (5.1 cm x 12.7 cm x 10.2 cm)
Weight: 1 lb. (450 g) approx.
Internal Memory: Stores programs in RAM memory
Power Supply: AC 100-240V, 50-60hz, 90W
Battery: Optional Li-Ion miniPCR™ Power Pack
Adjustable Lid: Compatible with flat or domed caps
CE Conformity Mark: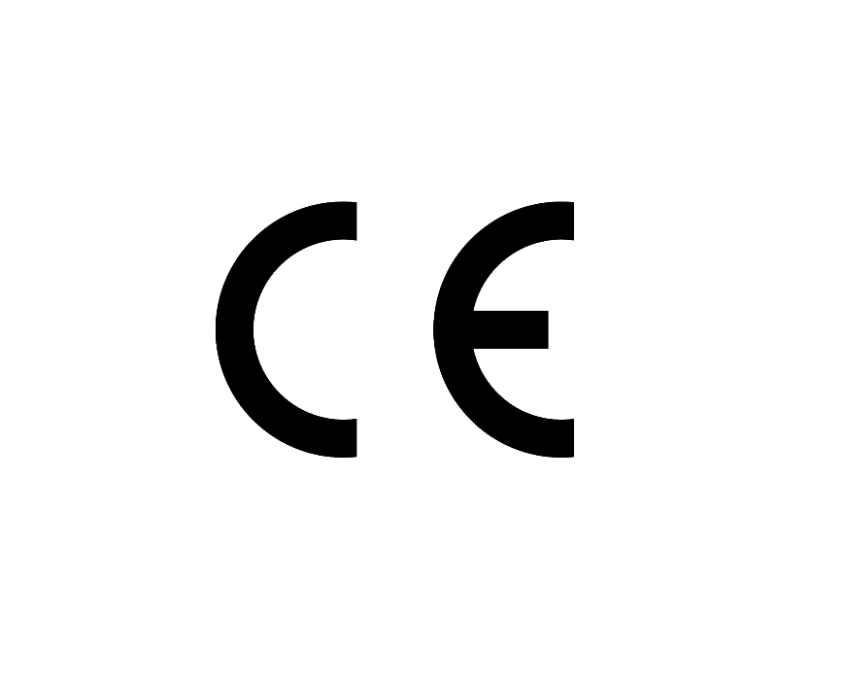 miniPCR™: One of a kind thermal cyclers
"It is nice to have a cycler on my bench that I can use at my leisure."
"It's really a great piece of equipment, beautifully designed for the classroom."
"We are testing out in the field inside farms to shorten testing time for key bacterial and viral diseases. It proved very useful to really make the miniPCR mobile."
"The miniPCR machine worked great. My assistant principal and another science teacher couldn't believe how compact and easy it was to use. I kept photos of the graphs to show the students that weren't there on Saturday"
"The miniPCR machines have proved to be a perfect solution, combining portability with ease of use and robust performance. […] In some cases the performance has exceeded that of the much more costly real time PCR machines that were already available within the diagnostic lab."