When STEM education goes virtual
miniPCR Team
When the COVID-19 pandemic set in and classes went virtual, Marianne Lindahl-Allen, PhD and Uzo Erlingsson, M.D  knew they had to think outside the box.
Before the pandemic, they had worked together to adapt a Harvard Medical School lab curriculum into an immersive laboratory medicine course for high school students. Their curriculum presented clinical care as a wrap-around service from patient to lab and back to the patient, painting a complete medical picture, and students were hooked by the combination of hands-on science and real-world relevance. But when the pandemic hit and classrooms closed their doors, how could Marianne and Uzo adapt their hands-on curriculum to a hands-off world?
The team rebounded by looking at CoVID not as a liability but as an opportunity. They envisioned a four-day, all-remote course in which students would work a CoVID-centered patient case from beginning to end, with each day building on the day before. On Day 1, the students would be introduced to patient care, "meeting" their patients through a role-play activity. On Day 2, Marianne and Uzo would use interactive games to introduce the immune system, convey its complexity, and introduce a simulated CoVID critical patient. On the final two days, the students would head to the lab to confirm their patient's CoVID19 test. The course, which the team called Leading Educational Achievements in Science (LEAS-Lab for short), would take place entirely online.
The lab activity proved to be the toughest nut to crack. Marianne and Uzo knew they needed to take care to select a meaningful, hands-on lab exercise that would nevertheless be feasible to implement in a virtual setting. With their sights set on introducing students to quantitative PCR (qPCR), the technology that forms the basis of the most widely used CoVID tests, they designed an activity based on the miniPCR bio Introduction to qPCR Learning Lab that would allow their students to run a real PCR assay on simulated patient samples.
Marianne and Uzo loaned their pilot cohort of 4 students – scattered all across the U.S. – a kit of miniPCR equipment and laboratory supplies needed to run their qPCR lab at home. With this kit in hand and their instructors cheering them on through Zoom, students transformed their bedrooms and kitchen tables into molecular biology laboratories. In running their simulated CoVID tests, students were able to validate their clinical observations with clear molecular results, pointing the way toward potential treatments.
"I feel much better about my lab skills now – how to keep a lab notebook, how to use a micropipette, how to avoid contamination," said Patti, a member of the LEAS-Lab cohort.
Working without a lab partner, relying only on virtual support from classmates and instructors, students assumed full responsibility for the success of the lab. The pressure promoted fast growth over the short, four-day span of the course. "I feel much better about my lab skills now – how to keep a lab notebook, how to use a micropipette, how to avoid contamination," said Patti, a member of the LEAS-Lab cohort. "I also feel like this gave me a bit more practice on how to learn effectively through zoom. I'm confident these skills will help me out this coming semester!"
Immersed in a complicated emergency case like CoVID19, students came to grasp a valuable message about the relationship between basic science to patient care. "In school I think that I get bogged down just thinking about the material or even getting frustrated with a failed experiment," said Natasha, another LEAS-Lab participant. "But this experience has helped me understand how important it is to relate what we learn in science classes to what that means in the world."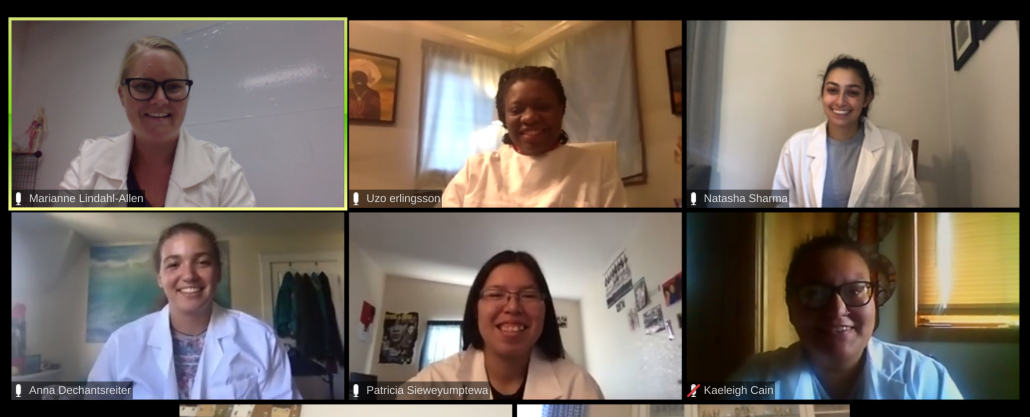 —

Uzochi Erlingsson, M.D is a medical doctor, a published research scientist, and an experienced venture capitalist. She has a passion for service and devotes much of her time to non-profit work, including support for education and arts organizations, and specific initiatives to support women-owned businesses.

Dr. Marianne Lindahl-Allen holds a PhD in Biomedicine, and completed her post-doctoral fellowship at Harvard Medical School. She has a strong passion for humanitarian aid which has fostered her love of teaching and engaging her students with interactive learning environments.