Learning at home: BioBits® hands-on labs for high school students
miniPCR Team
In light of the 2020 COVID-19 pandemic, schools had to shift their teaching from the classroom to online. This limited teaching to mostly sharing virtual resources, such as slides, videos, and worksheets. However, for the sciences, there is no replacement for authentic, hands-on lab activities or experiments that engage students and allow them to apply what they have learned.
Recently, we hosted a webinar where team member Dr. Ally Huang performed a live demo of the BioBits® Central Dogma lab live in her bedroom. The live demo showed teachers how they could teach the central dogma and gene expression from their own homes. As she walked through the lab, it suddenly occurred to us – instead of just having the teacher demonstrate the lab to the students, what if all students could follow along and actually do the lab too?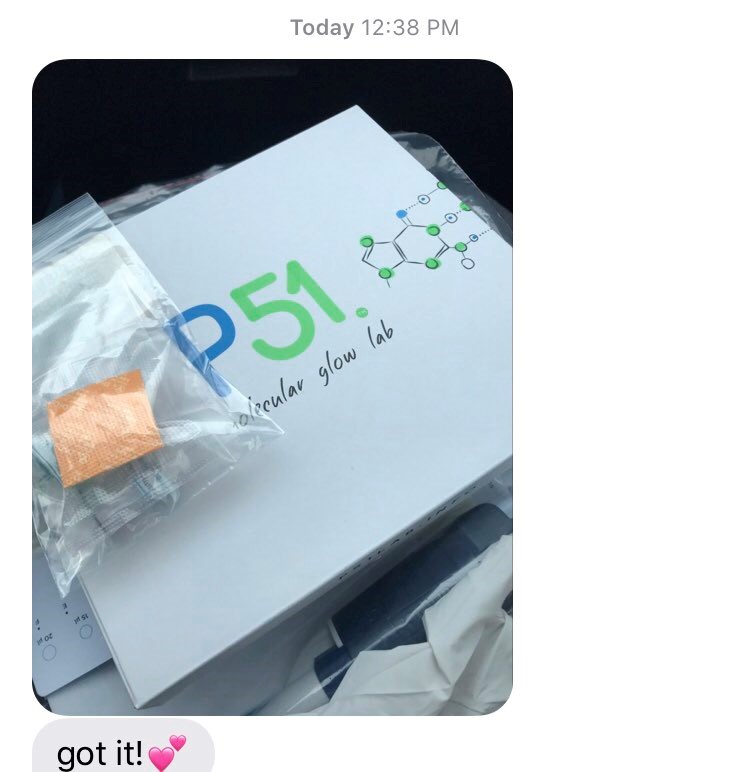 We had already shown that this was possible at the college level. A recent blog post outlines our collaboration with professor Diana Wolf at the University of Alaska Fairbanks, where college students in her "Principles of Genetics" course received equipment and reagents to extract and prepare DNA samples at home. These college-level at-home labs turned out very well, so we decided to see how a high school version would work.
There is no replacement for authentic, hands-on lab activities or experiments that engage students and allow them to apply what they have learned.
Since the BioBits® Central Dogma lab requires just a micropipette and a simple blue light transilluminator, like our P51™ Molecular Fluorescence Viewer, we decided that would work well for high school students – just challenging enough to be educational and engaging, but simple enough to be accessible to these students. Lindsey L'Ecuyer, a biology teacher at Andover High School in Massachusetts, volunteered her biotechnology class for this experiment. 20 students in all signed up to do the lab activity in their homes.
First, we had to figure out how to get all of the lab supplies to the students. Shipping the supplies directly to high school students' homes raised privacy concerns, so instead, we shipped everything to another Andover High School teacher's house. From there, students picked up their individual BioBits Central Dogma kits (while obeying social distancing rules!) and were ready to do the lab all together with Mrs. L'Ecuyer in their online classroom.
"[Students] LOVED looking forward to the experience, and engaging in hands-on learning in a time where everything they do is digital/reading/documentaries," Mrs. L'Ecuyer said, "The whole experience has just been so uplifting, meaningful, and inspiring."
The biggest challenge of having these high school students do the lab at home was not having Mrs. L'Ecuyer there in person to guide them through it. To help with this, Mrs. L'Ecuyer set aside three class periods on Google Meet so she would have enough time to walk the students through everything. On the first day, she had the students assemble their P51™ Molecular Fluorescence Viewers, as well as practice micropipetting. There were some technical difficulties – computers crashing, videos lagging – but with some patience, the whole class was able to complete their pre-lab tasks.
On the second day, the class actually did the BioBits® Central Dogma lab – Mrs. L'Ecuyer carefully walked through each step of the lab and supervised her students over video. She even had each student hold up their tubes to the webcam to make sure they were adding the right amounts to each reaction. Some students made mistakes, but that was okay – we had included extra reagents in case that happened, so students were able to try it again. At the end of this session, all of the students had glowing green results that they could see, which indicated to them that transcription was successful.
On the third day, they viewed their final results together and went over what happened during the course of the lab. All of the students had glowing red results, representing successful translation of their red fluorescent proteins. Many of the students were able to successfully explain the biology behind what their fluorescent results meant. Mrs. L'Ecuyer was very excited with how this whole experiment turned out.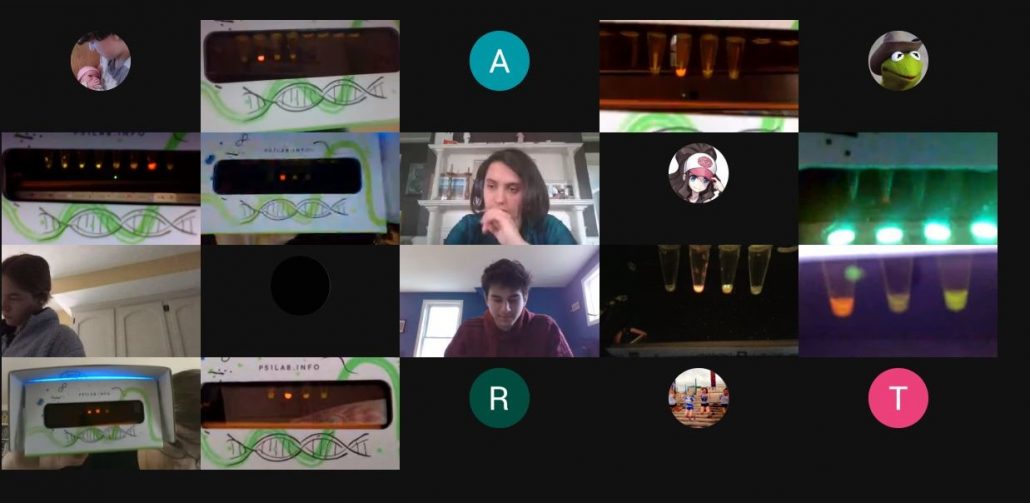 "They LOVED looking forward to the experience, and engaging in hands-on learning in a time where everything they do is digital/reading/documentaries," she said, "The whole experience has just been so uplifting, meaningful, and inspiring."