Bandit™ and blueGel™ electrophoresis systems: what you need to know
Katy Martin
Two accessible systems for gel electrophoresis in the classroom by miniPCR bio
™
With the introduction of the Bandit™ STEM Electrophoresis Kit from miniPCR bio™, we now offer teachers multiple options for accessible, low-cost classroom electrophoresis. So what system is right for your students? We'll highlight some of the key differences here.
Build it to understand it: Bandit™ STEM Electrophoresis Kit
The Bandit™ STEM Electrophoresis Kit was developed with a build-it-to-understand-it approach. Students assemble a gel electrophoresis system and then use that system to separate samples on a gel. In the process, they make connections between circuits, electric charge, properties of molecules, and applications to biotechnology. This ensures that, even before they conduct an electrophoresis experiment, students have understood and internalized the working principles of the underlying technology.
Bandit™ is ideally suited for use with dye electrophoresis Learning Labs™1, which simulate DNA samples with colored dyes and allow students to begin visualizing their results immediately. Complete runs take as little as 20 minutes! With topics ranging from biotech basics to Mendelian inheritance to genotype-to-phenotype relationships, our dye labs are well suited for middle school and introductory biology. 
Finally, the Bandit™ STEM Electrophoresis Kit was built with budget in mind, so if you thought gel electrophoresis was out of your reach, think again!
All-in-one integration: blueGel™ electrophoresis system
In contrast, the blueGel™ electrophoresis system is a fully integrated system that is ready to go out of the box. With safe blue light and safe nucleic acid staining, you'll be able to visualize DNA immediately without any staining or destaining. This makes blueGel the perfect system for running any DNA electrophoresis lab or more advanced lab protocols that include PCR or restriction digest. 
With a large range of DNA electrophoresis and PCR Learning Labs™1 from miniPCR bio™, you'll be able to investigate introductory to advanced concepts and protocols. And you'll find that our all-in-one All-in-One Agarose Tabs™  make gel casting a breeze and greatly simplify teacher prep
Finally, blueGel™ was built with accessibility in mind; use real DNA in a system that is safe, fast, compact, durable, and easy to use, all with a price that doesn't break the bank.
Bandit™ STEM Electrophoresis Kit
blueGel™ electrophoresis system
Speed

Direct dye visualization with results in as little as 15 minutes

Real-time DNA visualization with clear separation after 10-15 minutes

Visualizing results

Ideal for use with dye electrophoresis labs that require no staining or additional visualization equipment
If used to run DNA samples, separate transillumination equipment (e.g., blueBox) is required

Built-in transillumination so DNA can be visualized in real time
Ideal for use with DNA electrophoresis labs or as a part of more advanced protocols that use DNA

Teacher prep

Build-it-to-understand-it approach engages students in setting up of systems and pouring gels.
Pre-weighed Agarose Tabs™ for easy gel casting
User assembly required upon first use

No assembly required
All-in-one system combines the electrophoresis chamber, power supply, and visualization system in an out-of-the-box ready-to-go design
All-in-one Tabs™ for easy gel casting using SeeGreen™ stain

Curriculum fit

Suited for physical science and life science classrooms alike
Dye electrophoresis Learning Labs™ introduce students to the basics of biotechnology and introductory genetics

Cost

Our most affordabnle option for classroom electrophoresis

Affordable all-in-one system for DNA technology on a classroom budget
GELATO™ takes gel electrophoresis to new heights
Finally, for classrooms or labs looking for publication quality gel runs, larger capacity gels, and the ability to cut out bands, you can also check out the GELATO™ electrophoresis system.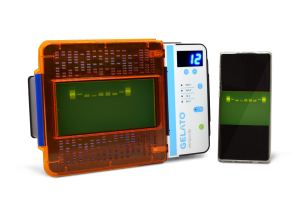 The GELATO™ electrophoresis system is a professional grade gel electrophoresis system with an integrated blue-light transilluminator compatible with cloning and other downstream applications. This top-of-the line system can run up to 50 DNA samples in as little as 15 minutes!
From beginner systems to advanced, we're working to bring you biotechnology that is accessible at every level. Find the system that is right for you: 
Learning Labs™ sold separately. A PCR thermal cycler is required for PCR Learning Labs.
Related resources: