Beautiful, powerful, and simple
Store, modify, backup and share programs with ease
STORE AND RUN YOUR PCR AT PUSH OF A BUTTON
miniPCRTM app makes setting up and finding your PCR programs a breeze. Store an unlimited number of programs directly on your own computer, tablet, or smartphone.
Once programmed, miniPCRTM will store and run your programs at the push of a single button. There is no need to remain connected to a computer or mobile device.
Watch Android app demo.
Engaging graphic interface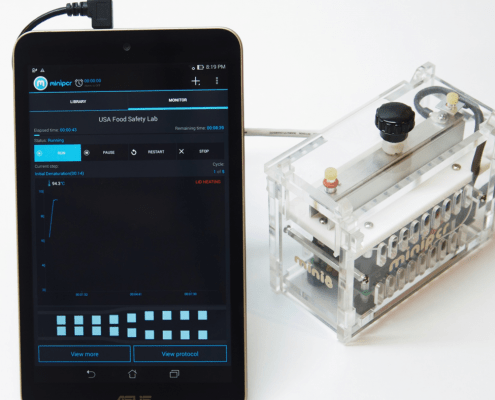 VISUALIZE THE PCR PROCESS
Monitor and visualize temperature changes that enable DNA amplification.
Record, export, and analyze run data.
Connect and monitor multiple miniPCRTM machines via a single computer.
Multi-platform support: Mac, Windows, Chrome, Android
FULL PROGRAMMING, LIBRARY STORAGE, AND SHARING CAPABILITIES ON THE GO
The miniPCRTM app is freely available for these operating systems:
Windows
Mac OS
Android (USB host-enabled devices via OTG adapter)
PROGRAM AND SHARE
Intuitive visual programming interface
Set PCR parameters with flexibility and simplicity
Heat Block mode sets precise, stable incubations in seconds
Copy, edit, and modify programs with ease
Unlimited program storage
Store, export, and share program libraries
MONITOR AND ANALYZE
Plot reaction parameters in real time
Bring DNA science to life through animations and graphs
Full control of run and device status (Run, Pause, Stop)
Plot DNA exponential amplification curve (mobile and Chrome versions)
Export data to .csv file for analysis and quality control
Quantify ramp rates, cycles, and uniformity
Get hands-on with DNA software, for free.