Genes in Space Experiment Launches to International Space Station
minipcr
Research could uncover new information about accelerated aging in space
KENNEDY SPACE CENTER, FL. (April 17, 2017) /PRNewswire/ — Julian Rubinfien (16), winner of the Genes in Space competition and a junior at Stuyvesant High School, NY, will launch his DNA experiments to the International Space Station (ISS) on April 18th from Kennedy Space Center, Fla, on cargo resupply mission OA-7. The experiment will be carried out using miniPCR™ technology aboard the ISS.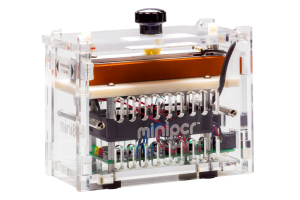 Julian's experiments investigate the genetic underpinnings of accelerated aging in space. The first experiment will test if telomeric DNA can be copied in space. Telomeres are protective caps on the ends of chromosomes and are known to shorten in response to stress and aging. Recently, the NASA one-year mission twin study found that Astronaut Scott Kelly's telomeres lengthened during his year in space. Julian's experiment will examine how measuring telomeres in space could enable health monitoring of astronauts during long-term missions.
The second experiment will test whether or not "on-the-spot" DNA-based diagnostic tests can be conducted on the ISS and will be the first of its kind in space. The work will make use of a new colorimetric LAMP (loop-mediated isothermal amplification) method from New England Biolabs®  to copy and detect specific DNA sequences. Detection of these sequences results in a change in the color of the experimental mixture.
Both experiments will use portable miniPCR™ DNA analysis technology. The ISS National Lab is a platform for cutting edge research and technology development that enables future deep space exploration. Julian was a student of MƒA Master Teacher Jessica Quenzer, who served as his mentor throughout the Genes in Space application process.


About Genes in Space:
Genes in Space is a national STEM contest that challenges students in grades seven through 12 to design DNA analysis experiments using the ISS National Lab (managed by the Center for the Advancement of Science in Space, or CASIS.) The competition is a partnership between miniPCR, Math for America, CASIS, New England Biolabs®, Inc, Boeing and is sponsored by FedEx.
The U.S. competition is accepting student research projects for 2017. Submissions are due April 25th. Learn more at www.GenesInSpace.org.
_____________
Media contacts:
miniPCR: Emily Gleason, genesinspace@minipcr.com, 781-990-8727
Math for America: Scott Woodson, woodson@mathforamerica.org, 646-437-0944
Boeing: Kelly Kaplan, kelly.g.kaplan@boeing.com, 281-226-4367
CASIS: Patrick O'Neill, poneill@iss-casis.org, 321-480-1054
New England Biolabs: Deana Martin, martin@neb.com, 978-380-7464