Guest post: Enabling High School DNA science
miniPCR Team
This is a guest post by Aspen Padron, senior at James C. Enochs High School in Modesto, California. Aspen is working on her senior honors thesis under the leadership of Mr. Dave Menshew, MA.Ed. NBCT, in the Forensic/Biotechnology Career Pathway Program. Below is an account of Aspen's first genetic barcoding experiment using miniPCR.

Recently I had the distinct pleasure of working with Dr. Ezequiel Alvarez-Saavedra. Dr. Zeke, as he likes to be called, is one of the co-creators of the MiniPCR device which we have used in our cutting-edge work here at James C. Enochs High School.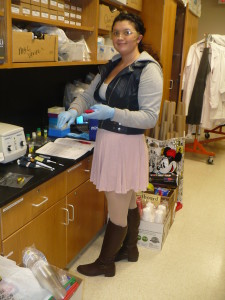 My project consisted of genetically characterizing wild salmon swimming in California rivers and comparing their DNA signature to salmon that we buy at the supermarket. We are using a technique called DNA barcoding which can uniquely identify species. Specifically, we obtained a salmon from the California Department of Fish and Wildlife. We stored its tissue in a -80 degree Celsius freezer that we house on campus for approximately 4 weeks until Ezequiel Alvarez-Saavedra made the trip to my high school's campus. Once he arrived he taught the process of extracting DNA from a muscle tissue sample. We used PCR to amplify specific genetic sequences that can uniquely identify salmon and distinguish it from other fishes (their "DNA barcode"). We will next compare these sequences to those of salmon bought at the local supermarket, hoping to confirm its authenticity. Mislabeled fish represents a widespread problem.
Dr. Alvarez-Saavedra did our program the great honor of flying out from Boston to assist me to learn how to use the device and apply it to my research. This gesture follows his work with our lead teacher, Dave Menshew at the annual Bio-Link Summer Fellows held at University of California, Berkeley last June. He and Dr. Kraves, also of Amplyus have taken time to monitor our program and have served as resources for our curriculum development. It was because of this assistance that I was able to make my project happen. While here, Dr. Zeke also took time to teach several classes here the fundamentals of DNA and PCR, and gave me several great ideas for extending my research.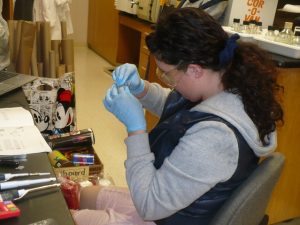 As I prepare for my work in college or university, I know that this experience has taken my lab skills to a new level.
– Aspen Padron, Enochs High Forensic Biotechnology Program, Senior



Along with Amplyus and the miniPCR, this project also employs cooperative relationships with Bio-Rad, and the California Department of Fish and Wildlife.