Teaching Biology from Home? We're Here to Help!
miniPCR Team
With all the uncertainty surrounding the upcoming school year regarding COVID-19 and its impact on what classrooms will look like in the fall, we've decided to round up all our resources that might help support biology teachers with new teaching models. Whether that's teaching remotely or a hybrid model, hands-on activities and labs will be a little more difficult to implement this year.
Here are some ideas from us so that your students can still be exposed to hands-on molecular biology learning while stuck at home during the pandemic.
–
Idea #1 – Free lab demo webinars
Perfect for: classrooms with limited budget/resources or limited video conferencing time with students
Throughout the spring and summer we have put on a series of free webinars on our YouTube channel. They range from educational discussions on topics such as COVID-19 and CRISPR, to lab demos of our hands-on molecular biology labs. These labs all have visual outputs, allowing students to collect data and analyze results. This series will continue into the fall, so subscribe for updates!
Check out these recorded lab demos, with accompanying student worksheets:
Idea #2 – Demo labs over webcam
Perfect for: classrooms with some budget and looking for activities to do over video conferencing with students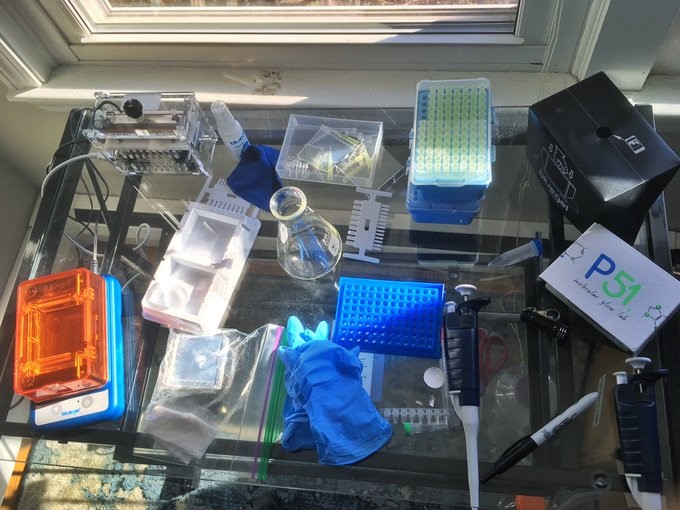 If you're looking for a way to directly engage your students more interactively, you can consider doing one of our molecular biology Learning Labs yourself at home over webcam as a demo to your students. All of our lab activities are easy to do at home and have visual outputs that students can observe and analyze.
One teacher reported she made the demo even more interactive through a "Robot Hands" approach. The students had read the lab protocol ahead of class, and over Zoom they instructed the teacher what to do each step of the way. This way, the students can gain a good understanding of the lab without actually doing it themselves.
Some teachers made the demo even more interactive through a "Robot Hands" approach, with students guiding her lab steps over Zoom.
Below are some great labs that can be easily done at home as a demo:
Idea #3 – Lab-along with students
Perfect for: classrooms who have the budget and bandwidth to obtain and distribute materials to all of their students.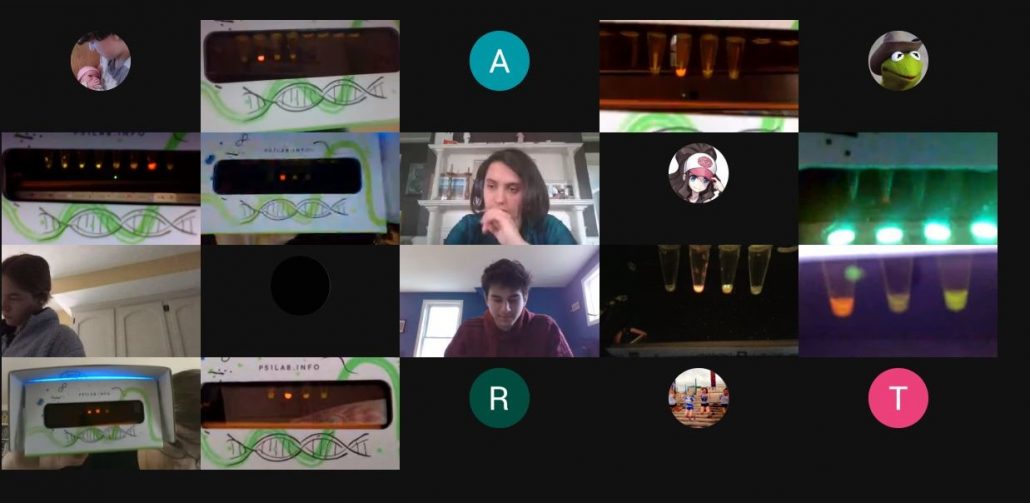 For the most interactive and hands-on option for your students, it is certainly possible to distribute equipment, reagents, and materials home to your students so that the entire class can do the lab together!
Teachers can re-package our classroom kits into as many as 10 individual sets per kit and then distribute them to their students. Some schools have shipped the materials home, while others coordinated socially distant pick-ups at the school or other central location. Once the students have the materials, the class meets over video conferencing and carries out the lab together.
Because our labs involve minimal equipment, it is feasible to distribute them to students at home. It does involve a good amount of effort and coordination on the school and teachers' parts, so we are happy to connect you with other teachers who have already done this successfully. Here are examples of groups that have chosen this model:
Other ideas
Free educational resources – find many more free resources, including case studies, additional educational videos, worksheets, readings, and discussion questions.  https://www.minipcr.com/educational-resources/
DNAdots –  explaining today's genetic technologies that may not yet be in your text book, in simple language and with questions to test your knowledge. https://dnadots.minipcr.com/
Genes in Space – in partnership with Boeing, we host a free science competition every year. Students in grades 7th-12th propose DNA-based experiments that can be done on the International Space Station (ISS) to study an aspect of space biology. The winning experiment is actually flown to the ISS and carried out by astronauts. This would be a good project to assign to your class, and students can decide if they want to enter it into the competition.  https://www.genesinspace.org/
–
Most importantly, we are here for you! We understand that your job has been made so much harder due to the circumstances, and we want to support you any way that we can. If you have any questions about any of the ideas listed here or if you want to discuss a new idea, feel free to reach out to us at team@minipcr.com.
—