miniPCR™ goes to Summer Camp!
miniPCR Team
Cambridge, Mass. – When you think of summer camp for kids, you think of the great outdoors, swimming in lakes, and roasting marshmallows by the campfire.
But have you heard of a camp that has kids explore the molecular underpinnings of life? Or study DNA by performing the polymerase chain reaction? This is not your typical summer camp.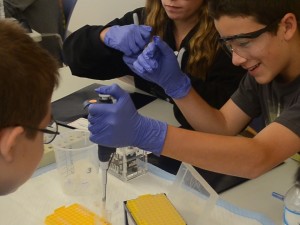 Sebastian, Zeke, and I had the opportunity to meet with kids attending Camp Bio, a one-week program based at the Whitehead Institute at MIT where middle school children explore the field of biology through hands-on activities and lab experiments. We took our miniPCR machines to Camp Bio so that kids could get their hands dirty and learn some core molecular biology skills.
After an animated presentation by Sebastian and Zeke, the kids were ready to run the molecular lab procedures. They couldn't wait to get their hands on the pipettes and start experimenting.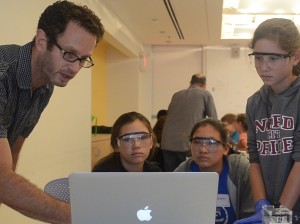 We walked through a real-life scenario in which PCR could be used: there's an E.coli outbreak in the city's burger plants and we need to find out which meat-packing plant is making people sick. They do this by examining ground beef samples for the presence of bacterial DNA that could be behind the food poisoning outbreak.
The last step of running the gel electrophoresis was hectic as everyone wanted to pipette their samples into a gel and help contain the bacterial outbreak. When you see the final results on the gel, it's awesome to hear the reactions of everybody who said "Wow!"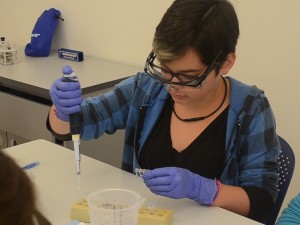 It was a lot of fun seeing the kids laugh while doing real experiments with real DNA. Tell that to your middle school science teacher!
Contributed by Daniel Guan