Introducing our latest dye electrophoresis lab: Mendel's Peas
Katy Martin
Add a layer of hands-on inquiry to your genetics lessons with the Mendel's Peas Dye Electrophoresis Learning Lab!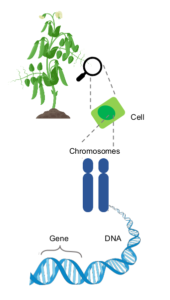 Designed with middle school and introductory biology students in mind, Mendel's Peas allows students to take on the role of plant geneticist, as they connect phenotype to genotype in a case study grounded in biotechnology research.  In a single 45-minute class period, students can use data and gel electrophoresis to determine if a candidate gene can be linked to Mendel's round and wrinkled pea phenotypes.
Bridge classic Mendelian genetics with modern biotechnology
All miniPCR dye labs, including Mendel's Peas, use room temperature stable dye samples.  Students can watch the samples run in as little as 20 minutes, with no additional visualization equipment required.
Mendel's Peas Learning Lab features:
A visual lab guide, designed for increased accessibility.  The background of the Mendel's Peas lab is written in a visual format, using diagrams to enhance student understanding of the process of gel electrophoresis.  Review questions are integrated throughout, to help students assess their knowledge. An integrated glossary helps students decipher new terms.
Pre-aliquoted sample strips. The Mendel's Peas lab kit includes pre-aliquoted samples for 8 lab groups, cutting down on teacher prep time. 
Pre-measured electrophoresis reagents.

All of our dye labs come complete with

Agarose Tabs™

and a single-serving pouch of TBE buffer.  No add-on kits or reagents are required for you to run this lab with your students.  All you need to add is water.
Until the end of 2023, the Mendel's Peas and Microbe Hunters dye electrophoresis Learning Labs are on sale! Get yours for just $59/kit.
Related resources: