Texas Association of Biology Teachers recognizes miniPCR's commitment to biology education
miniPCR Team
The Texas Association of Biology Teachers (TABT) held its Annual Luncheon in Houston, Texas, in the context of the 2017 Conference for the Advancement of Science Teachers (CAST). This was a very successful event at what is a pivotal conference for science teachers across the state. Much of that success is due to the overwhelming support from members, teachers, supporters and friends.
It was during the proceedings of this event that miniPCR was recognized as a "Friend of TABT", the Association's highest honor, "for its commitment to being an outstanding exemplary corporate citizen" to this remarkable community of educators.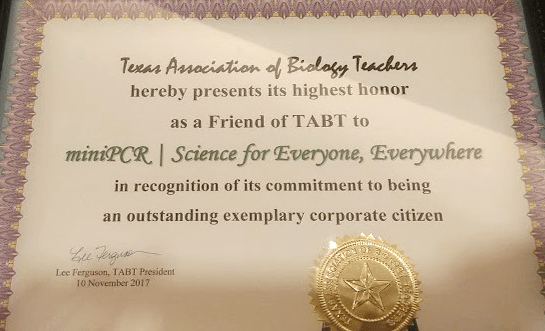 miniPCR co-founder Sebastian Kraves received the award from TABT's President, Lee Ferguson. "It's a rare honor to be recognized by teachers for the small role we play in their classrooms" said Sebastian. "Being surrounded by these amazing and passionate educators just drives us to do more" for STEM education, added Kraves.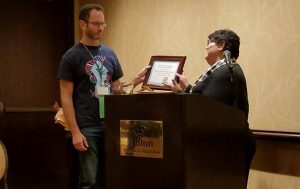 Learn more about the Texas Association of Biology Teachers on the TABT website.