First underwater DNA sequencing
minipcr
Astronauts are diving deep under the ocean to prepare for life in space
This article by Rachel Feltman first appeared in The Washington Post on July 26, 2016
Some 62 feet under the seas of the Florida Keys, a band of astronauts — nay, aquanauts — are busy preparing themselves for life in space by living the life aquatic. The NASA Extreme Environment Mission Operations (NEEMO)'s 21st mission began last week, and the 16-day mission seems to be going swimmingly.
NEEMO (which has to be one of NASA's best overreaching acronyms) is designed to provide an Earthbound analogue to the experience of living on the International Space Station. Astronauts, scientists and engineers from space agencies around the world settle down for a few days in the Aquarius undersea habitat, where they conduct experiments and even go on "spacewalk" simulating dives. They can even adjust their buoyancy to simulate the gravity of Mars.
"NEEMO 21 astronauts and crew will pioneer complex tasks on the seafloor utilizing the most advanced underwater navigation and science tools which are methodically choreographed to mimic a Mars exploration traverse," NEEMO Project Lead Bill Todd said in a statement. For each of the six crew members sent down to the deep blue sea, around a dozen research and support team members are working on land to keep the mission running.
"Equipment can fail, communication can be challenging and tasks can take longer than expected," Todd said. "Other tasks go just as planned. All cases are equally beneficial. It's how we learn and how we are able to assemble all of this together so that someday we're prepared for the unexpected when we are living on and traversing the Martian surface."
The aquanauts are testing equipment like the mobiPV, a system that provides them with personal audio and video instruction during jaunts off the base. It has been tested in previous NEEMO missions and once on the ISS, and this test run will influence the design of a new prototype going to space in 2017. NEEMO explorers are using the system — along with other virtual-reality gizmos — to guide them on "waterwalk" experiments. They've also tested a miniPCR system for sequencing DNA, which will soon be flown into space.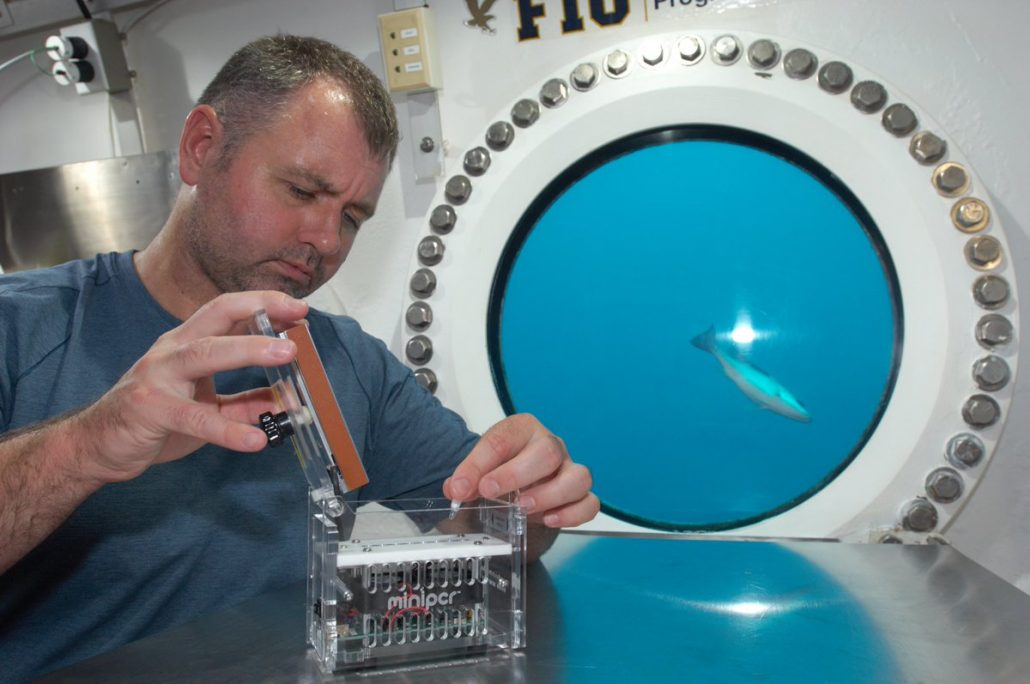 They might not be that far away, but life underwater can get pretty alien. In fact, the 16 hours it takes to decompress and return to the surface makes the journey home longer than that from the ISS itself (which takes just over three hours, including the undocking process).
NASA astronaut Megan McArthur and the European Space Agency's Matthias Maurer are staying on Aquarius for the full 16 days. For now, they're joined by NASA astronaut Reid Wiseman (who is serving as commander of the mission) and research scientist Marc O'Griofa. At the halfway mark, Wiseman and O'Griofa will be replaced by Florida Institute for Human and Machine Cognition Research Scientist Dawn Kernagis and Naval Postgraduate School Researcher Noel Du Toit, at which time NASA's McArthur will assume command of the vessel. The crew is also joined by two habitat technicians.
To follow the mission, check out #NEEMO21 on Twitter. You can also watch live streaming video from different locations in the habitat.